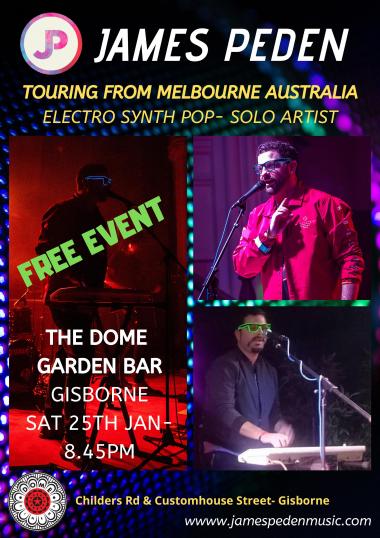 Dates: Saturday 25th January
GARDEN BAR - FREE ENTRY - 8.45pm

Melbourne Electronic Synth Pop Solo artist James Peden is touring to Gisborne. Performing live in the Garden Bar James is bringing a collection of upbeat lively originals that will not doubt get you dancing!

His music is described as a unique blend of electronic music, synth pop, with a twist of 80s sounding vocals. He performs with his synthesizer and is very interactive in his live show.

His single Thirst No More placed 6th in the Amrap Regional Charts in Australia in 2017 and placed in the semi finals of the Unsigned Songwriters competition.

This year has been James' (JP) busiest year gigging around Melbourne city venues. Qualify in the Grand Final Open Mic competition and featuring at the Waves Festival in Melbourne.

He will share about his musician journey and stories behind his songs. Covering issues of facing mental health and encouraging you to find the positive side of life.

"Hi my name is James Peden, originally from Auckland, NZ, I now call Melbourne home. I started out with music as a teenager playing keys in church and became a solo artist in 2005.

I love experimenting with synth/keyboard and electronic sounds to create my music and live shows are full of energy and life. You will hear a unique blend of electronic music, pop, synth and 80s sounding vocals.

I have been compared to the likes of Pseudo Echo, David Bowie, Potbellez, & Peking Duk.

Like to experience something different in my live shows? I use flashing neon lights from my keyboard stand and from my clothing while I perform original songs like New Future, Superhero, Speed of Sound, & Together to name a few."