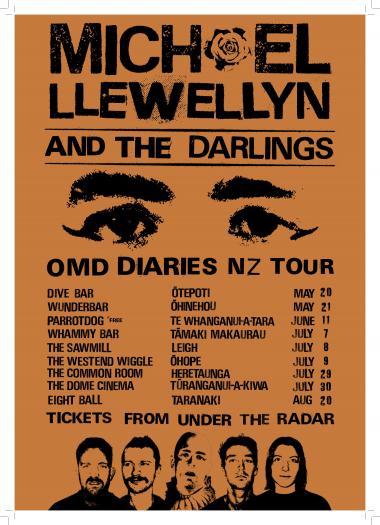 Dates: Saturday 30th July
Soft and raspy, poetic and bouncy, 'Michael Llewellyn' with his backing band 'the Darlings' are a six piece explosion based outta Te Whanganui-a-Tara. After the release of their debut record 'Oh My Darling' and the gentle touring of te ika a Māui they look forward to another year of sweltering hot storytelling and raw grooves. Organic, earthy and honest.

Supported by Gizzy's very own spaghetti grunge ensemble, The Voles. A Vole (of the rodent family) has been described as "the potato chip of the prairie" and this band is just that. Crisp, a little salty and unforgivingly moorish. Performing their first live show, the local supergroup is made up of AJ Bradley (bass/vox), Ben Emms (drums/vox), Joe Alexander (guitar/vox), Albert Gooding (guitar) and Kieran Nicoll (synth).

Come along to the Dome Cinema for a grungy evening of music.
Doors open 8pm, show starts at 8.30pm

Tickets from www.undertheradar.co.nz $20 + BF or $30 on the door.