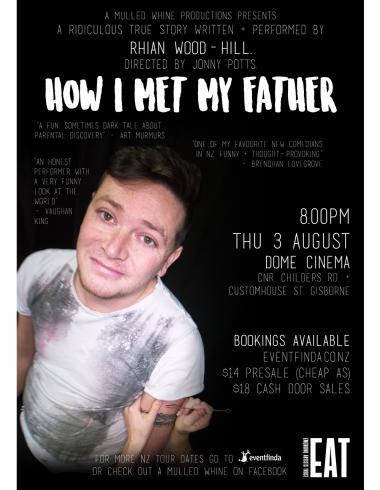 Dates: Thursday 3 August, 8pm
A STORY SO RIDICULOUS, IT HAS TO TOUR THE COUNTRY!

A Mulled Whine Productions presents How I Met My Father. Written & performed by Rhian Wood-Hill, directed by Jonny Potts

Comedian Rhian Wood-Hill is hitting the beanbags at Dome Bar & Cinema as part of a
massive New Zealand tour for his new show, How I Met My Father - the true story of when he met his father at age 21.

Rhian knew just a few things about his father growing up: He was a criminal, he was
charming, he was good looking, and Samoan. Being raised in Temuka, Rhian didn't have many reference points to his Samoan identity, and life experience suggests he lacks most of his father's other qualities.

With a perfect balance of comedy and drama, wild anecdotes and down-to-earth moments, How I Met My Father is both honest and hilarious: An hour where you are invited to laugh wholeheartedly at someone else's misfortune.

Considering the show covers a lot of personal info, we sure hope Rhian's extended family don't mind him airing out the laundry for everybody.


"A fun, sometimes dark tale about parental discovery" – Laura Ferguson, Art Murmurs

"An honest performer with a very funny look at the world" – Vaughan King

"One of my favourite new comedians in New Zealand. Funny and thought-provoking." -
Brendhan Lovegrove

How I Met My Father is on at Dome Cinema for one night only – Thursday 3rd August.

Presales $14 for eventfinda or AVIARY, or $18 on the door.