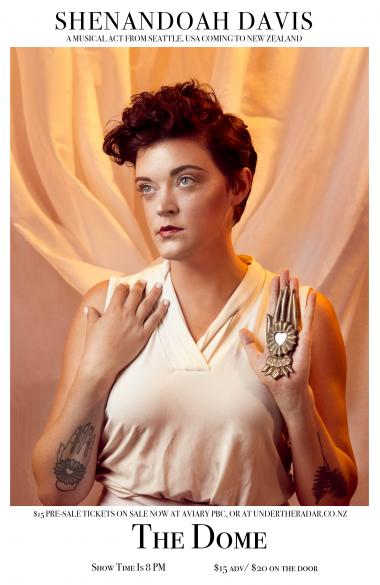 Dates: Sat 20th Jan 8pm
Presales from Aviary $15, or $20 on the door

SHENANDOAH DAVIS RETURNS TO NEW ZEALAND WITH FULL BAND NEW FULL-LENGTH ALBUM SOUVENIRS OUT NOW ON PLUME RECORDS (US) AND HOME ALONE RECORDS (NZ)

US-based musician and songwriter Shenandoah Davis is thrilled to announce her third tour of New Zealand, coinciding with the release of her third full-length record, Souvenirs, which came out in September. The album was lauded by Pitchfork as "pitch-perfect chamber pop" and by American Songwriter as "the perfect introduction to her orchestral brand of rock-tinged indie pop and her sweeping, singular voice."

Davis has spent the last decade releasing music and touring the globe, gaining acclaim from fans and fellow musicians, including two previous tours of New Zealand playing not only venues in the city, but in more remote, far-reaching destinations. Her first two tours to New Zealand each spanned the length of six weeks and included two appearances at Camp A Low Hum, a performance on Good Morning, and accompanists/tour mates including dear friend Anthonie Tonnon as well as Stelth Ulvang (The Lumineers.) On this particular trip back, she is excited to bring along the same touring band that traveled the US with her in the fall - her younger sister Alenni, who recently graduated from college will be appearing on viola and synthesizers, and Ian Williams (The Thoughts) on guitar and drums.