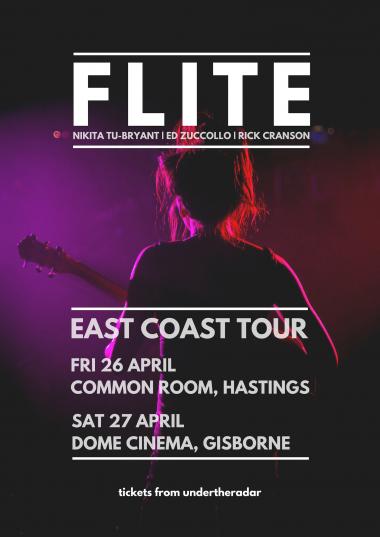 Dates: Saturday 27 April
'Flite is one of the few bands I will go and see every time they're playing if I'm in Wellington. And I just love them every time. I live in Berlin now, and I see their gigs pop up and it genuinely makes me miss home.'
- Thomas Oliver

FLITE, loosely described as a psychedelic-pop meets atmospheric-funk band, is comprised of the folk soul storytelling and guitar of Nikita 雅涵 Tu-Bryant (Nikita the Spooky), the thick lush sounds of Moog synth bass and Rhodes of Ed Zuccollo (Trinity Roots), and the filthy drive and psychedelic tribal drums of Rick Cranson (Little Bushman).

In their live set you'll be taken on a storytelling journey over groove and soundscapes, with their signature epic and expansive sound.
Expect to move.

****
Winters ago, from the bitterly cold south coast of Wellington, Aotearoa - emerged FLITE.

After a 4 year semi-hibernation since their debut MARIANA's TRENCHCOAT; FLITE dusted off their wings re-emerging with their new single TRY TO FIND A WAY late last year.

Despite being a little late to the online social media(s), FLITE have been simmering below the surface, playing shows around the country over the years, as well as a few favourite festivals; TORA TORA TORA, Performance Arcade, and Newtown Festival to name a few.

'FLITE is one of those few bands, when you hear them; find yourself losing all concept of time because you are so completely utterly transfixed, and in-tune with their groove.'
- Bryn van Vilet (Tunes of I)

****

$20 Presales from UTR and from The Aviary PBC for their Gisborne show, or $25 on the door - capacity allowing.