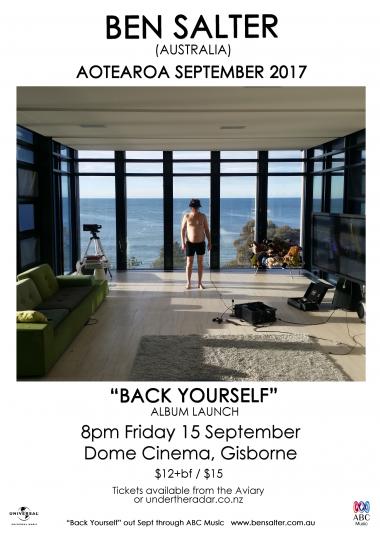 Dates: Fri 15 Sept
Get your presales $15 from Aviary to ensure you don't miss out - limited numbers!
$15 door sales on the night if it's not sold out.

Acclaimed Australian songwriter & performer Ben Salter is returning to Aotearoa in September to promote his third solo album "Back Yourself". He will be performing at Dome Bar and Cinema in Gisbourne on Friday the 15th of September. Salter's unique brand of esoteric existential antipodean indie folk, coupled with his remarkable voice, make for an unforgettable live experience.

Ben Salter is one of Australia's most highly regarded performers and songwriters. As well as being a founding member of Giants of Science, The Gin Club and the three-time ARIA-nominated Wilson Pickers, he is an accomplished artist in his own right. His debut solo album The Cat (2011) and follow up The Stars My Destination (2015) established his penchant for eclectic, esoteric arrangements and sounds that take in elements of folk, rock, pop, jazz, country and beyond, whilst maintaining a coherence and inimitable melodic style.

Salter has collaborated, written and performed with artists as diverse as Mick Thomas (Weddings, Parties, Anything), Tim Rogers (You Am I, The Temperance Union), Bernard Fanning (Powderfinger), Gareth Liddiard (The Drones) and Marlon Williams, to name a few. He has toured with acts including Cat Power, J Mascis, Gareth Liddiard, Counting Crows, Marlon Williams and most recently Built To Spill.

Since the release of The Cat, Salter has toured relentlessly both across Australia, throughout Europe, and most recently to Japan and New Zealand. His third album, Back Yourself, is due for release through ABC Music in September 2017.